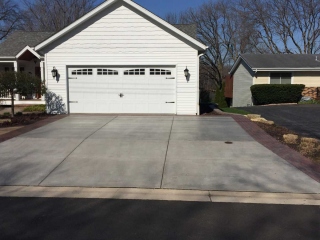 Your driveway is like a centerpiece in your yard. A good-looking, strong concrete driveway adds value to your home and makes it more attractive. We're experienced at making impressive driveways in Rockford IL using different materials, like stamped concrete, brick pavers, poured concrete, and natural stone. Forget about regular asphalt – we can help you make a smart investment in your Rockford home by creating a beautiful new driveway.
Concrete vs. Asphalt: Choosing the Right Stuff for Your Driveway
Lots of Rockford homeowners go for blacktop driveways, not knowing the many benefits of concrete driveways. Sure, asphalt might seem cheaper at first, but the constant repairs it needs over time end up making it way more expensive than concrete. Concrete is stronger and tougher. It can handle heavy cars and the tough freezing and thawing common in Rockford, IL and the surrounding area. Plus, taking care of a concrete driveway is easier than dealing with asphalt. You don't have to seal it as often.
Exploring Cool Concrete Driveway Options
Imagine having a driveway made with cool brick designs or decorative stamped patterns. This beats the plain black look of asphalt and adds interesting details. Asphalt quickly loses its color, so your driveway looks old soon after you add a new layer. Stamped concrete and concrete pavers, on the other hand, keep their colors and patterns for a long time in your Rockford driveway.
Getting it Right: The Experts Behind Your Rockford Driveway
It's super important to build your concrete driveway the right way and make it strong. If not, it could get messed up easily. When you pick us, you're teaming up with the best concrete contractor in northern Illinois and southern Wisconsin. We've got ten years of experience doing all sorts of concrete projects, so we know how to get things done right. Reach out today to swap your old asphalt driveway for a fantastic new concrete one.